Veterinary Anesthesia Machine
This equipment is a veterinary anaesthesia equipment jointly developed by Dolphinmed and Foreign organizations. It is suitable for animal hospital, pet clinic and animal laboratory. This technical index of animal anaesthesia machine can meet the needs of general anesthesia and medical research on mice, dogs, cats, rabbits, monkeys, pigs, sheep and other animals in animal laboratory. The absorber system conforms to the international standard, the air tightness is good, the use is convenient. Thoughtful structural design, cost-effective, accessories are sufficient, maintenance costs are low, is an ideal substitute for imported animal anaesthesia machine.
Products description
Using original imported core components, good performance, with ultra-high performance-price ratio, this equipment supports wall hanging, trolley stand, portable three installation methods, support the world's mainstream animal experiments and animal surgery anesthesia.

Anaesthesia CO2 absober assembly has no dead angle design, fast anesthesia, short recovery and high precision. The CO2 absobe supports both open loop and closed loop anaesthesia design and provides independent access .

Provide a special APL valve, on the one hand, connect with the exhaust gas recovery system, on the other hand, provide continuous 2cmH20 negative pressure for the rebreathing airbag; provide another breathing gas for the closed loop, and lift the continuous negative pressure by the APL valve.

Provides an accurate oxygen flow meter with a display range of 0 to 4LPM

Vaporizer: The output concentration is not affected by the change of flow, pressure and temperature, accurate and reliable, equipped with safety locking device to prevent anesthetic leakage. Isoflurane,sevoflurane and halothane vaporizer are optional.

Provide oxygen bypass switch to allow oxygen direct conduction in animal preprocessing, instrument testing or any emergency; ensure smooth hand surgery and animal safety.

The hard aluminum solid shell is used, and the surface sanding treatment is adopted, so that the cleaning and disinfection are more convenient.
Component:
* laryngoscope: laryngoscope is designed for animals. It is suitable for dogs, pigs, rabbits, rats and small animals in zoos
* soda lime: used to block absorption of carbon dioxide during anesthesia
* airbag: silica gel material contains 0.5L, 1L,1.5L. International standard 22mm interface
* oxygen pipe: PVC3 layer tube, outer wear resistant PVC, intermediate resin line strengthening layer, inner layer is food grade material. Equipped with quick socket, easy to connect
* Breathing tube: PVC material, 22mm in diameter and 1.6m in length
* Waste gas filter tank: used to absorb spilled gas anesthetic, can absorb isoflurane, sevoflurane, halothane and other gases, disposable use, safe and reliable.
* Endotracheal intubation: thermal sensation should be made of PVC material, high tactile feedback indicating balloon. Smooth end cup molding with minimal damage during insertion
* Mask: PCV material special animal mask to do animal anesthesia, oxygen, spray, etc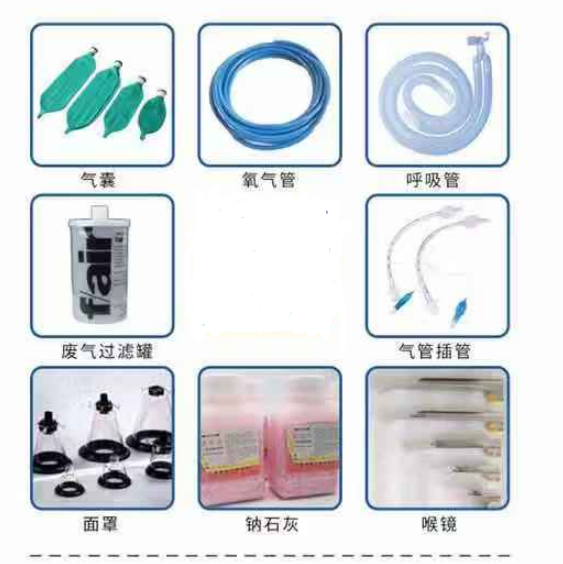 Technical Specification
Flow Control
0-4L/min
Oxygen Flush
35L/in~75L/min
APL adjust scope
0.2-5Kpa
Inspiration impedance
≦0.6Kpa
Expiration impedance
≦0.6Kpa
D02 Absorption tank capacity
0.8Kg
Appendix
Anesthesia ventilator
Optional
Breathing circuit
1
Mask
1
Laryngoscope
Optional
Endotracheal intubation
1
Exhaust gas recovery tank
1
Soda lime
1
Gas airbag
2
Pressure release valve
1
Patient monitor
Optional
Small animal surgery kits
Optional
Oxygen pump
Optional
Oxygen pipeline
1
Air pipeline
1
Gas source
Gas source
Oxygen or oxygen&Air